How Japan Does Chocolate
ROYCE' Chocolate takes immense pride in producing our confections in Hokkaido, an agricultural capital and gourmet hub in Japan. Our credo is to create top-notch chocolate selections in Hokkaido using only the finest ingredients sourced both locally in Japan and internationally from different countries. We want to entice everyone's palate through the Japanese principles of excellence and detail-oriented craftsmanship.
Factory & Quality Control
All of our selections are made in our factory and headquarters in Hokkaido, Japan. We implement high quality production strategies and strict hygiene standards.
To illustrate, access to the production line is strictly controlled. Before entering the production line area, everyone is required to wear factory-issued uniforms and Personal Protective Equipment (PPE) before passing through a specialized air tunnel to remove dust. Adhesive tape rollers are then used to ensure that no dust remains on the clothes. Finally, hands are carefully washed and disinfected. No one may proceed to the production line until they have fully completed this process.
By taking these measures, we are confident in offering our customers products of the highest quality and hygiene. At ROYCE' Chocolate, it is our policy to respond accordingly and continuously to customers' requests and produce confectioneries with uncompromising standards.
Baton Cookies

Chocolate Production

Potatochip Chocolates

Chocolate Wafers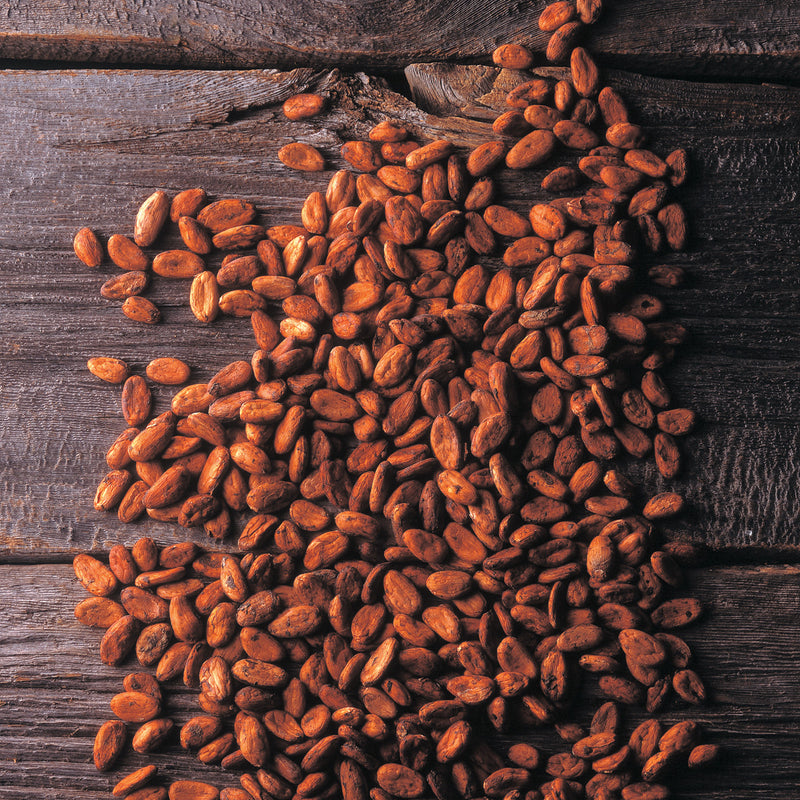 Ethics & Sustainability
ROYCE' Chocolate has been a member of the World Cocoa Foundation as part of our efforts into making sure that our confections are always produced ethically from start to finish.
The World Cocoa Foundation is a 501(c)(3) non-profit organization founded in 2000. It aims to promote social and economic development, as well as environmental stewardship, in cocoa-growing communities. The foundation is membership-based and currently has around 70 member companies involved in the cocoa and chocolate industries in the world, representing over 80% of the global market. The organization benefits cocoa-producing regions and its workers across the world through various collaborations between the private and public sectors. 
A key component of the World Cocoa Foundation's operations is to support programs that work with farmers on a pre-competitive basis, prior to sale or commercialization of their cocoa. Through these programs, farmers are provided with the skills they need to efficiently operate productive farms and make sound business and livelihood decisions. ROYCE' Chocolate approves of these programs and we would like to contribute in building up the industrial structure of the world cocoa & chocolate business. It is this shared belief that we became a member of the World Cocoa Foundation. This has been established to ensure the sustainability of cocoa, the health of the planet, and the prosperity of cocoa farmers around the world.
ROYCE' Cacao Farm
Pursuing excellence is a virtue we highly value and practice. A couple of years ago, we set on a project to have our own cacao farm. After extensive traveling and numerous site visits to different cacao farms, we found the perfect environment and suitable partner in Colombia. The ROYCE' Cacao Farm in Colombia has been established since 2014.
We entrust the actual management and operations of this farm to a local partner company we work with. This partner company has their own pilot farm and provides technical assistance to neighborhood farmers by arranging various educational sessions and helping with logistics such as farming and dispatching, among others.
Through this endeavor, we believe we could significantly support farmers in earning a profit and getting an excellent evaluation of Colombian cacao. The staff at our cacao farm in Colombia have their contract with our local partner company. We respect their skills and expertise, as they grow cacao with such passion and pride.
We continue to ethically source and produce our confections using cacao and different ingredients from other places and countries. With this vision, we consistently pursue the endless possibilities of chocolate by producing our own crops and studying the different methods of cultivation, fermentation, drying, and processing of cacao beans. Through the ROYCE' Cacao Farm, we are enthusiastic in showing the joys of How Japan Does Chocolate to the world.